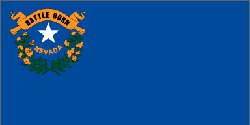 Nevada
"Sagebrush State; Silver State; Battle Born State"
Motto

All for Our Country

Capitol

Name Origin

Spanish: "snowcapped"

Statehood Date

Oct. 31, 1864 (36th)
Cities in Nevada
NOTE: Not all cities are displayed. Please narrow your selection by using the search above.
Official Symbols
A state's official symbols represent the composition and culture of the land and people who live and have lived here. Below are the symbols of Nevada along with the year they became official.
| | |
| --- | --- |
| Flower | Sagebrush (1959) |
| Trees | Single-Leaf Pinon (1953) And Bristlecone Pine (1987) |
| Bird | Mountain Bluebird (1967) |
| Animal | Desert Bighorn Sheep (1973) |
| Colors | Silver And Blue (1983) |
| Song | "Home Means Nevada" (1933) |
| Rock | Sandstone (1987) |
| Precious Gemstone | Virgin Valley Black Fire Opal (1987) |
| Semiprecious Gemstone | Nevada Turquoise (1987) |
| Grass | Indian Ricegrass (1977) |
| Metal | Silver (1977) |
| Fossil | Ichthyosaur (1977) |
| Fish | Lahontan Cutthroat Trout (1981) |
| Reptile | Desert Tortoise (1989) |
| State Artifact | Tule Duck Decoy (1995) |
Demographics
Population Density

18.2 people per square mile
Geography and Weather
Land Area

109,826 sq mi. (284,449 sq km)

Lowest Elevation

0 ft (0 m)

Average Elevation

5500 ft (1676.4 m)

Highest Temperature Recorded

125°F (52°C) on June 29, 1994

Lowest Temperature Recorded

–50°F (–46°C) on January 8, 1937